XS Power L925-16ACK 16 Volt Lithium Battery & Charger
Part Number: P66L92516ACK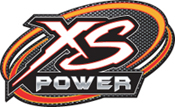 XS Power #L925-16ACK Combo, Battery, Lithium Ion Powerpack, 16 V, Top Post, 6.25 in. Length, 6.93 in. Width, 4.92 in. Height, 6 lbs. 8 oz., Battery Charger, Lithium Ion, Kit.
P66-L92516ACK
Description:


The L925-16 Lithium Powerpack provides an excellent value in a lightweight racing battery solution for drag race applications. This 16V Lithium-Ion battery has 25 minutes of reserve, a total capacity of 11Ah, and yet weighs only 6.5 lbs. It features very low internal resistance making for faster engine starting when compared to most 16V AGM batteries. It is built around the common 925 case size used by XS Power and others and therefore fits in many of the battery holders already on the market. This battery features fast cell balancing for long life, maximum capacity, and safety. A unique feature of this battery is the complete MOSFET protection system including automatic low voltage, high voltage, over current, and short circuit protection. Since battery life is so critically affected by charging, XS Power also has available the compatible charger, the 1008 Lithium charger for optimum performance. This product can be used with an alternator.

The XS Power lithium chargers are lightweight and feature LED indicators to monitor status, 6 foot cables with heavy duty clamps, and a built in cooling fan for reliability.

Lithium Battery FAQ's:

Will this start my car?
Absolutely! The XS Power L925-16 will spin the motor at the same speed as their popular 16A AGM battery, the S1600.

I have heard that these fail in racing. Why can I be confident this one will work?
XS Power has invested three years and employed the services of top electrical engineers to cut a path through this new technology. Countless hours of testing have been done as well as real world track testing to insure the product is a solid performer. Not only will the product perform electrically but much as been done to insure it will survive the extreme vibration of drag racing tire shake. The XS Power team is personally committed to make this product work for you and we state behind it as we have done with our other products for years.

Is it safe?
XS Power regrets that this question comes up in the context of lithium racing batteries however they understand the reason for it. They have seen the charred remains of their competitors' batteries with their own eyes and know the anxiety that a fire in the car, trailer, or garage can cause. XS Power is happy to say that their technology is very safe and uses a multi-step protection scheme to insure that the product is 100% trustworthy when used as directed. In addition even when things are not going as directed, the L925-16 has several protection systems in place to protect the racer from accidentally abusive situations like short circuit protection, over current protection, as well as over temperature protection.
Does it need a special charger?
Every battery of any chemistry and from any manufacturer should be mated to a compatible charger. Lithium batteries require a different charging algorithm than lead acid batteries and therefore they do require a special charger. Using a lead acid charger on a lithium battery is especially dangerous when the battery is at a low state of charge. At this point the current should be very limited and the typical lead acid charger will not do this. In addition, lithium batteries should not be float charged where as lead acid batteries should. Therefore lithium battery chargers must shut down at the end of cycle whereas the typical lead acid charger will not.
How long does it take to recharge?
This depends on how much energy is removed from the battery during a pass. A typical Pro Mod pass will remove 4~5 amp-hours of energy. The 1008 lithium charger is a 14A charger and can replace this in about 20 minutes. Some racers use less energy and find their recharge times to be around 10 minutes.

How does it connect?
The L925-16 is a simple two post battery with no external switches. Simply connect battery positive to the positive terminal and ground to the negative terminal as you would a typical battery.
Can I lash the valves with it?
Yes with a note. The L925-16 does have a patented solid-state MOSFET switching system inside that is monitoring the current flow and voltage at all times. Depending on the speed and sequence of the "bumps" on the motor lashing the valves may activate the over current protection. If it does, not to worry as this protection resets automatically in 10 seconds. For many this over current protection will not even be noticed. Optimally a secondary battery should be used in the pit area to lash valves so that the lithium battery is insured to be full when you leave the pits.