Ford Racing M-6007-X302 306 CID / 340 HP Crate Engine
Part Number: F28M6007X302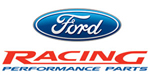 Ford Racing #M-6007-X302 Crate Engine Assembly, Ford, Small Block, 306 C.I.D., 340 hp, Each.
F28-M6007X302
Description:

Get on the road with exceptional Ford Racing engine performance value from Ford Racing's new 306 cubic inch crate engine! Produces 340 horsepower at 5500 RPM. Will work with Automatic or manual transmission. Can be used in kit cars, street rods, Mustangs and Fox-bodied cars. Intake gaskets M9439A50 are required. Firing order 1-3-7-2-6-5-4-8 (5.0L HO and 351W order).

Features:

*9.0:1 compression ratio (nominal)
*Forged Mahle pistons 4.030"
*E303 camshaft
*Aluminum Ford Racing "X" cylinder heads, (M6049X306) with 1.94" intake valves and 1.54" exhaust valves (production is 1.78"/1.45")
*50in/oz imbalance rotating assembly (common to 1981 and newer 302s)
*Seasoned block and precision ground crankshaft
*"Ford Racing" polished aluminum valve covers (M6000K302R)
*Production forged steel connecting rods
*New production 4-bolt crankshaft damper (M6316M50)
*Hydraulic roller camshaft (M6250E303), .498" lift intake and exhaust, duration at .050" is 220 degrees intake and exhaust
*Double roller timing chain set
*New dual sump oil pan (M6674A50), fits most Fox body cars
*New oil pump

The following items may need to be modified for proper installation:

*A different performance oil pan and pickup may be required for your application.
*Timing chain cover will work with most standard rotation water pumps.
*Fuel pump eccentric M6287B302 installed, allows use of a mechanical fuel pump.

*Water pump not included. Use water pump M8501G351 (or equivalent) standard rotation applications or use water pump M8501C50 (or equivalent) for reverse rotation applications. For short serpentine or 1994-1995 Mustangs use kit M8501A50 (or equivalent) or for short V-belt use water pump M8501E351S (or equivalent).
*Flywheel not included. Requires 50 oz. imbalance flywheel M6375B302 (manual) or flexplate M6375A50 (AOD).

IMPORTANT WARRANTY INFORMATION! Power-adders such as superchargers, turbos, or nitrous not recommended. Use of power-adders voids the warranty. See Ford Racing Boss series of crate engines if you plan power-adder enhancements.

NOTE: This part is shipped via truck freight, additional shipping charges will apply.